UI / UX Design
Speculative Product Design
Interaction Design
Branding
Sustainability

PROJECT VISION
Bites aims to redefine how sustainable food and custom personalization might be achieved by reflecting on macro trends, uncertain times and shifting paradigms.

By utilizing future manufacturing to produce designer foods from food waste, invasive species, and alternative lab grown proteins, we hope to achieve sustainable future foods that delight users in 2032.

Lauren Johnston - Interaction Designer and Branding
Sam Denning - Product Designer and 3D modeling
bites Project Framing
The year is 2032… cars will reach level 4 to 5 of self driving. Parking garages have become obsolete. The question is what to do with these centrally located structures with no use? There is an opportunity to use them for vertical farming. This would promote local growing and sustainable practices, saving water and land and creating affordable produce. Technology has improved to further grow lab proteins, use insect proteins, and rely on invasive species to eat.
Key Change Drivers
1. ADVANCES IN SUSTAINABLE FARMING TECH

2. ACCESS TO HEALTHIER ALTERNATIVE FOODS

3. INCREASE IN POPULATION

4. ARTIFICIAL INTELLIGENCE

5. ADVANCES IN MIXED REALITY

6. BIOMETRIC SCANNING
Problem Statements
Users attitudes towards ethical consumption and transparency will increase and non-circular design systems will no longer be sustainable.


The overall growth in world population is estimated to be 9,198,600,00 by 2032, so we need alternative options for food security.


Worsening climate impacts, issues with land space and lack of water negatively impact food growth and availability.


Plant-based proteins are growing in popularity and need better alternatives.


R&D on Key Macro Trends, Progress Overview, Archetypes, and User Personas


KEY MACRO TRENDS
We researched five key macro trends, including economic trends, trends in technology, social trends, food trends, and trends in politics.

Through this we developed five key insights:
The division between food and medicine is increasingly becoming blurred.



There has been a boom in the convenience economy, but humans need controlled convenience so that AI and tech don't full take over.



Full plant-based food options may be helpful if lab grown, but can't fully take over as the only source of food.



Looking at a circular economy model for sustainable food systems may be more effective that just banning single use plastics and turning to "plant based only"



Joy is an essential part of consuming food products and eating that will never go away.
USER ARCHETYPES

User archetypes give us an overall view of a large majority of users within a group. Here we have four categories of users, the Early Adopter who is quick to try the newest, trendiest things. They generally have a higher income and are more ambitious and have fun experimenting. There is little risk in trying a new thing for this group.
The Early Majority user is next in line to adapt to newer products and technologies. They are generally influenced by the Early Adopters, are online, tech saavy, and are caustious and slightly risk adverse.
The Late Majority user is carefully skeptical of new things. They are generally influenced by the Early Majority (who can be their children for some). They aren't online as more, or as tech saavy. They don't really have the luxury to experiment with new things, but will jump in later when they see everyone "doing" it and can save for it.
Laggards are very traditional users. They dislike change are can be very stuck in their ways. They may be older, and not as adept with technology and have a hard time giving up what has always worked for them. They only move into trends and newer technologies when they feel pressure from people in other adopter groups.
Within the Archetypes, we pulled information to create and even more specific user personas. One from the Early Adopter, and one from the Early Majority and one from our. We found these three groups to be the most likely to try an experimental food product like "bites" first, and pass on by word of mouth to their parent to try as a late majority user.
The consumer electronic interface is made to look like a health app, with several icons acting as tracking, and monitoring your health and food intake.
OBSIDIAN


OBSIDIAN is the best selling wearable device on the market. It's a brain machine interfeace, similar to neura-link. They will replace smart phones in the near future, and can sync with your calendar, health data, lifestyle and more. OBSIDIAN is compatible with the "bites" app, so you are able to sync your bites health and food data into your daily life.



bites Sustainable Bento Box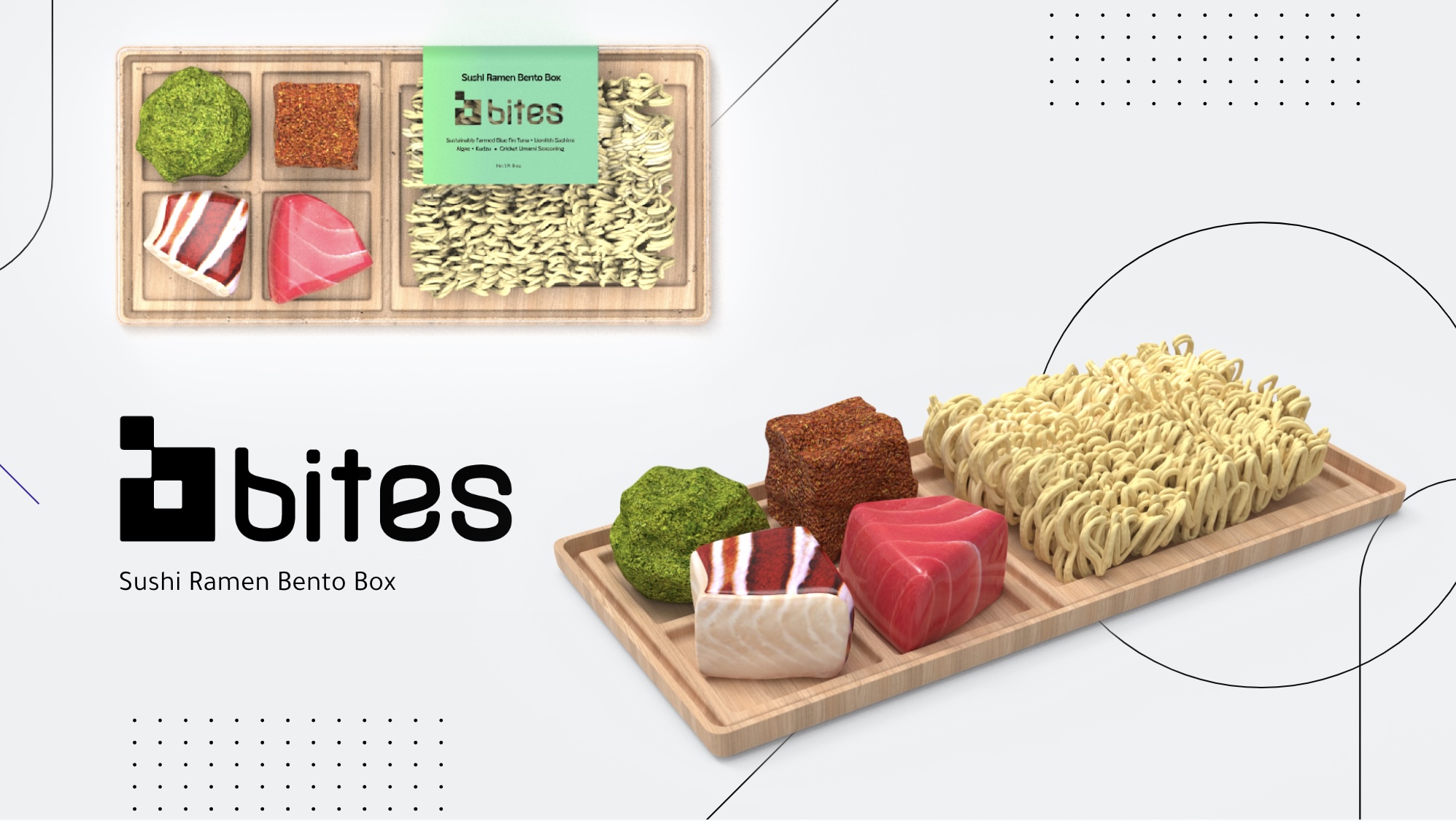 The bites sustainable bento boxes are made from bio material packaging featuring: an algae bioplastic cover, seaweed bioplastic film to preserve freshness, and a compressed palm leaf tray that is all 100% compostable. The food itself is sourced from invasive species and newly formulated bug proteins.


bites Health System and App


The bites Health System and App is a consumer electronic product for the kitchen, that syncs your health data and food intake to your OBSIDIAN. The Personal Tonic Synthesizer is capable of concocting tonics to rememdy issues custom to your body and lifestyle, such as fatigue, lack of concentration, or overeating.




CONCLUSION
By utilizing sustainable and available resources for all components of this bento box and packaging, BITES is able to provide their customers with a more accessible and sustainable alternative to traditional meal kits.