UI / UX Design
User Research
Interaction Design
Illustration
Social Innovation for LGBTQIA+

ABOUT
Violetta is an interactive digital archive of Berlin's queer culture specifically aimed at integrating FLINTAs into the narratives of the past, present and future. Through map and archive exploration, paired with site-specific digital storytelling, Violetta brings Berlin's rich queer history to life, and provides opportunities to share the vibrant up and coming culture today.
Integrating FLINTAs
Into Queer Spaces
FLINTA stands for Females / Femmes, Lesbians, Intersex, Non-Binary, Trans and Asexual / Agender people. FLINTAs have not been centered in queer spaces that are historically and currently for cis queer men in Berlin. In recent years, there has been an increase of events and spaces that are either FLINTA-only OR cis-queer-men-only in Berlin. Though intended to be safe and welcoming, FLINTA-only spaces can still be excluding for trans men, butch people, non-binary, intersex people and trans women because of negative attitudes towards bodies perceived to be male. Additionally, they can be excluding for trans men because they are only welcome for being trans, conveying they are not "real" men. By sharing the history of queer Berlin and integrating cis queer men and FLINTAs into all queer spaces in the app, Violetta aims to reduce gender policing and exclusion at the door.
The Queer Capital
Berlin is often regarded as the Queer Capital of Europe, holding the largest pride parade, Christopher Street Day, every July. You can find some of the most famously renowned clubs like Berghain, Kit Kat, and Möbel-Olfe to be run by the queer scene. Cruising is still a popular (and legal!) activity. On Dyke Day, a gang of lebians on bicycles ride through Kreuzberg. Locals and visitors alike go nude sunbathing on the strandbad or ditch their top in a park, and no one bats an eye. Berlin is a city that doesn't care who you are, what you want to do, or how you express yourself in the most freeing way.
Berlin's History of Queer Oppression and Liberation

As early as the 1,800s, Berlin had a fairly well-documented openness and "don't ask don't tell" tolerance for LGBTQIA+ communities that we didn't see at that same time in other (now popular) queer cities such as London, Paris, New York, and San Francisco. LGBTQIA+ rights have evolved significantly over the course of the last decades after enduring Nazi occupation and persecution for being gay. The decriminalization of consensual same-sex acts in 1968 helped result in the dissolving of Paragraph 175 in 1994. The past 20 or so years have been Berlin's queer renaissance and a time of celebration.
Trans people could now present a medical certificate to the police and receive a "trans pass", which protected them from arrest for not conforming to gender norms.
︎

Buttgereit's travel pass makes no mention of being trans.
"B.B. is not forbidden to wear man's clothes" -on back.
LANDESARCHIV BERLIN/LAB A REP. 341-04 NR. 1087
1933: NAZIS SHUT DOWN THE EL DORADO CLUB
The Nazi party takes over Germany and begins burning queer literature and shutting down safe gay, trans and lesbian spaces such as the El Dorado night club.
︎
The El Dorado Night Club, 1930s, credit Wikipedia
1997: "GAYHANE"
Together with SO 36 club; a queer, transwoman organizer Fatma Souad started a unique Middle Eastern queer dance party called the Gayhane.
︎


SO36 Club entrance in Kreuzberg, Berlin.
2022: TODAY
Today Berlin endures as a hub for the queer community, and provides spaces and activities for diverse gender identities and sexual orientations.
︎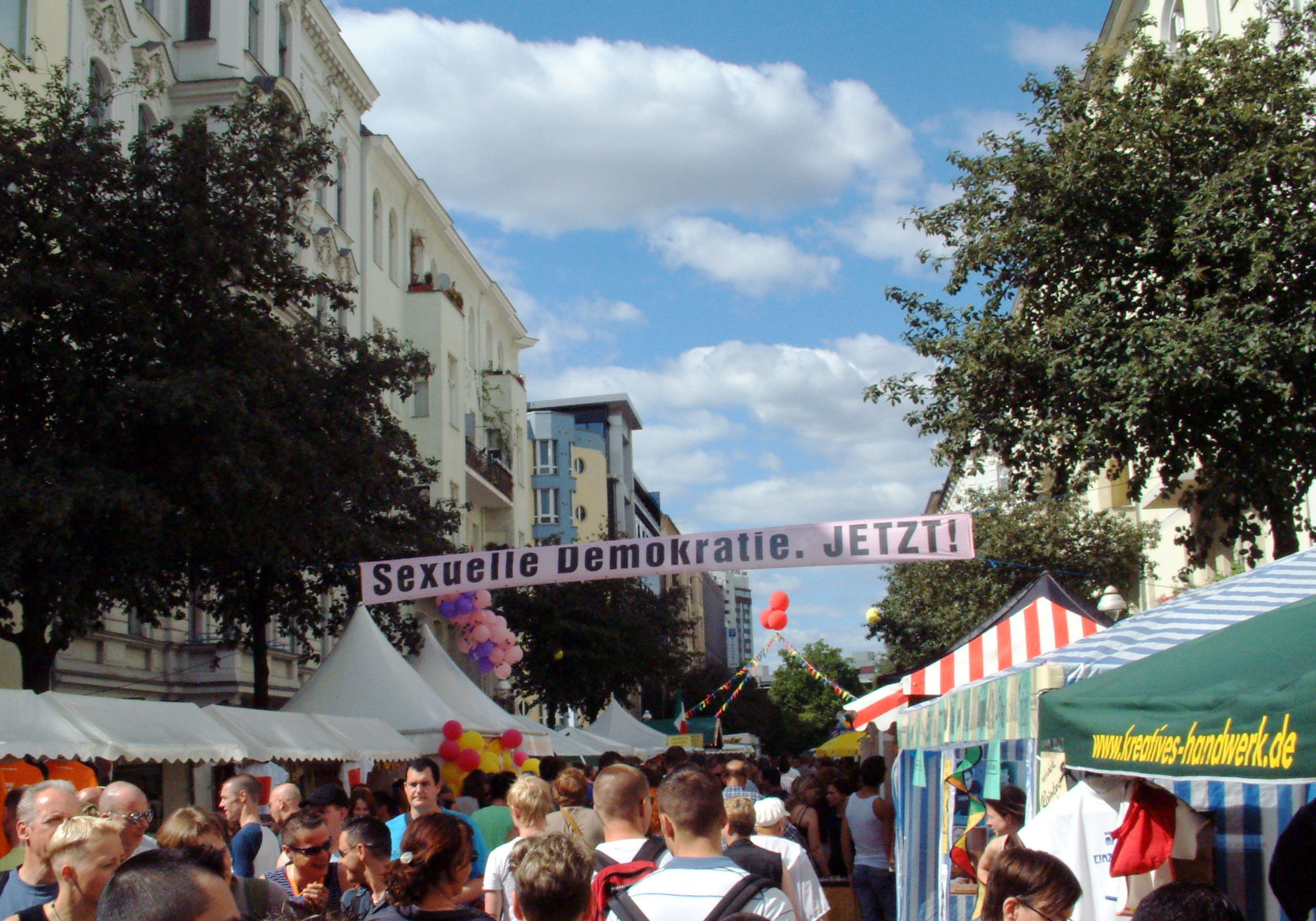 Sign reads "Sexual Democracy Now"
01.

INTERACTIVE TIMELINE An interactive historical timeline of Berlin's queer history from the 19th century to today
Scroll through different points in history.

Expand on a decade to see more events.


Click on events in time to get details including clips, pics, videos, & documents.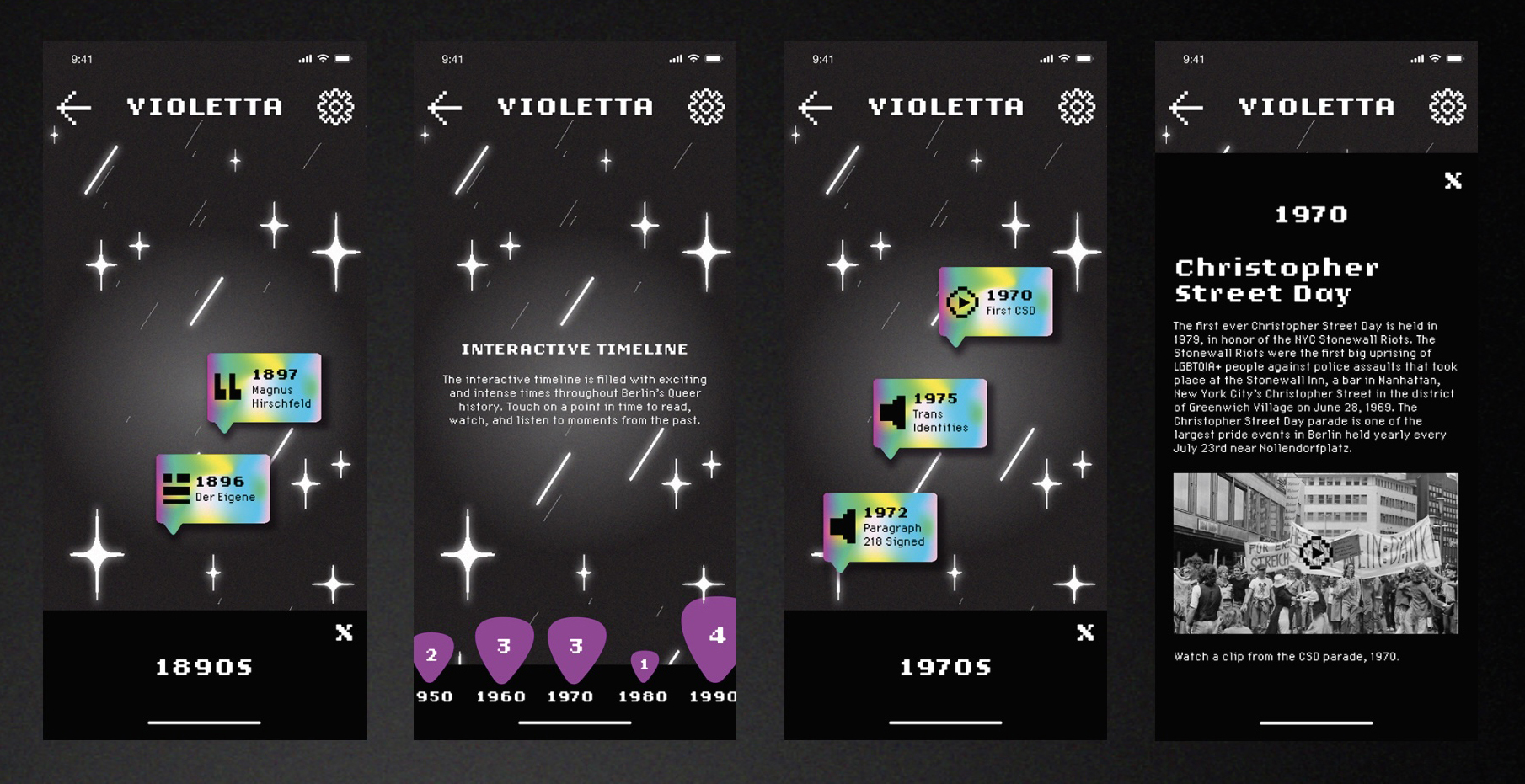 An interactive map with curated points of interest for queer history and current queer spaces that allows for open exploration
Explore past and present in an open map.

Search and use filter settings for results.

Add your own new spots and events.
03.

STORY MODEAR site specific digital storytelling, guided by a queer time traveler named Violetta
Get an introduction from Violetta.

Visit the historic El Dorado Night Club.

AR reveals a glimpse of the club's past.

04.

YOUR COLLECTIONA collection of AR photo adventures, saved interests, and unlockable costumes for your guide, Violetta.
View costumes unlocked in Story Mode here change Violetta's outfits.

View your photos from AR adventures.

Export your collection to yourself via text or email, with the option to delete your information and start again.

RESEARCH
I visited the Schwules Museum gallery and archive on multiple occasions to view art by queer artists and also rummage through their vast literature on gay Berlin. The visits largely informed my categories for topics of interest within the app and helped form my information architecture. It also inspired me to further explore more sites, and conduct ethnographic research.
OVER 80 SITES
There are over 80 researched points of interest to search and explore. Topics include: Sexual Liberation, Queer History, Freedom of Play, Finding Community, and Meeting Safely.
USER ARCHETYPES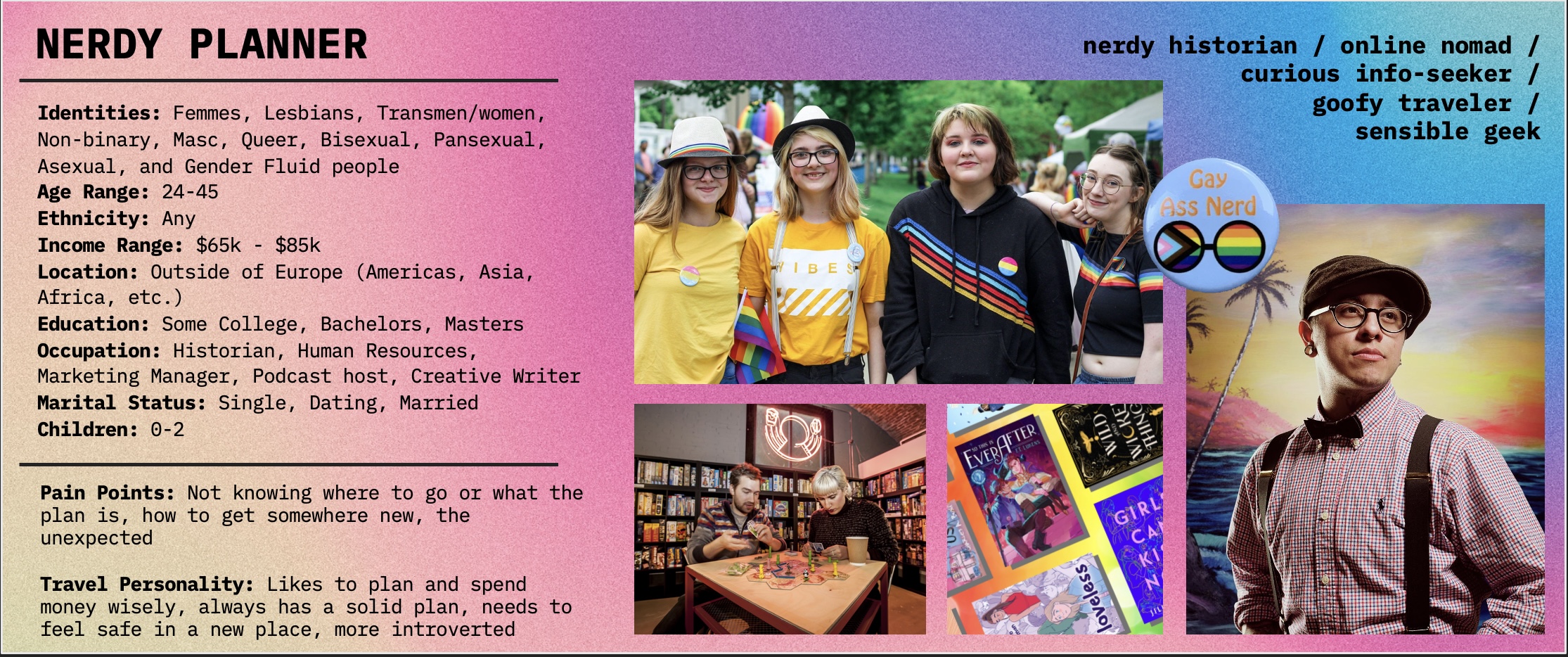 In researching who to design for, these archetypes are not based on interviews, and instead white paper research and site specific observations of people who frequent these sites. They are both larger general queer populations, rather than a very small specific group. Violetta is intended for use by all members of the queer community including cis bi and gay men, with a focus on integrating FLINTAs.
INFORMATION ARCHITECTURE
The information architecture is designed for deep exploration. All the main features, such as the Interactive Timeline, can be found on the home page as well as the settings. Story Mode is interconnected with My Collection. As you play through Story Mode, you can take photos, save topics of interest and unlock new outfits all of which can be viewed in the Collection.
SYSTEM DESIGN
The app is made to look like a retro indie video game. The font family is LoRes 12, reminiscent of 8 bit game text. The color scheme is pulled from the bisexual flag, and the rainbow colors are a contemporary interpretation of the rainbow pride flag. Graphic elements such as sparkles and rainbow gradients and are meant to feel like elements pulled from time and space travel.
LESSONS LEARNED

CONCLUSION
Through my research I have learned about the nuances of creating an comprehensive, interactive, digital experience for visitors and local queer people in Berlin. I've reflected on the key historical moments of Berlin's queer past that have influenced it's queer culture that I've experienced while being there, and I hope to see it further evolve to become ever more fun and inclusive.
Violetta aims to bring Berlin's rich queer history to life, and provide opportunities to share the vibrant up and coming culture today. To end with a quote that inspired me all term, I would like to finish the project off with this:
In a pamphlet titled 'Gladius furens,' or 'Raging Sword,' Karl-Heinrch Ulrichs wrote after openly coming out and defending his gay identity in 1867's German court:


"I am proud that I found the strength to thrust the first lance into the flank of the hydra of public contempt."