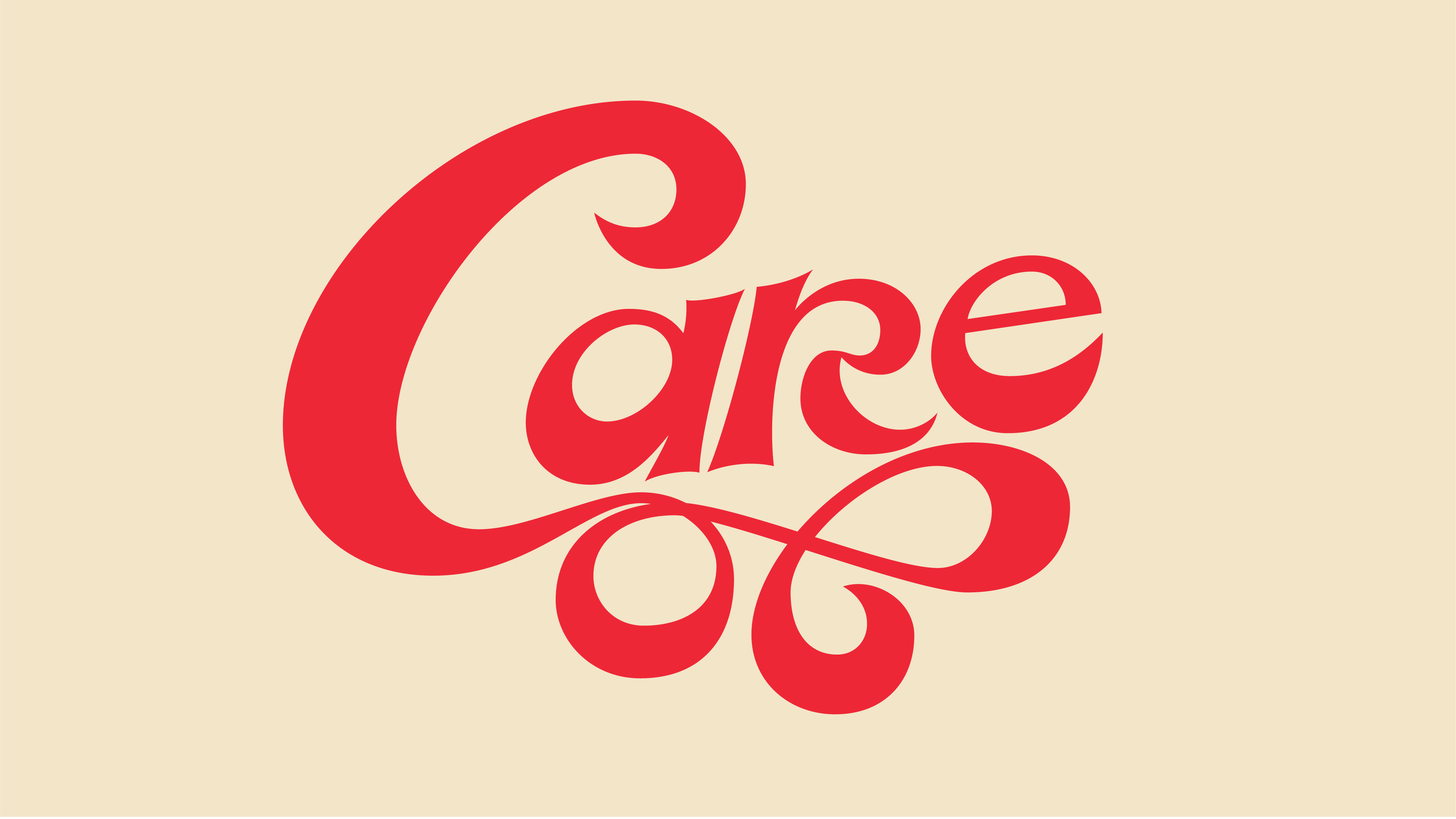 Environmental Design
User Research & Strategy
Brand Identity
Interaction Design
Installation Art
Product Design
Social Innovation for Health Equity

ABOUT
Underserved Black and Latine communities in Los Angeles face many barriers of access to the COVID-19 vaccine such as no internet access, no cars, and lack of information and resources. Our team developed CARE, a mobile medical pop-up system, as a way to provide welcoming support that brings the vaccine to spaces people already go to for work, play or daily needs. We are devoted to assisting communities that have yet to develop trustworthy relationships with their healthcare providers.

Lauren Johnston
Researcher, System Designer, Interaction Designer

Athena Aquino
Graphic & Branding Strategist

Soojung Yoo
Environmental & Product Design

Jeremy Zerger
Prototyping Fabricator and Production Details Consultant

Weizi Song
Construction Details Consultant and Digital Fabricator


Problem Statement:
Underserved Black and Latine communities in Los Angeles face many barriers of access to the COVID-19 vaccine such as no internet access, no cars, and lack of information and resources.
Key Insight:

How might we provide welcoming support that brings the vaccine to spaces people already go to for work, play or daily needs?


A History of Medical Mistrust
To better serve these communities, we must understand the historical oppression and the causation of mistrust in Black and Latine communities. The Tuskegee Syphilis Study in Alabama (1932-1972) is one among many unethical medical experiments used on people of color. In the experiment, 600 poor, Black men were recruited for a study with incentives like free health care. No one was told the true goal of the study: "to observe the natural history of untreated syphilis"; actively decieved and manipulated to participate. 128 participants died of syphilis or related complications, 40 wives were infected, and 19 children were born with congenital syphilis and suffered under the stigma.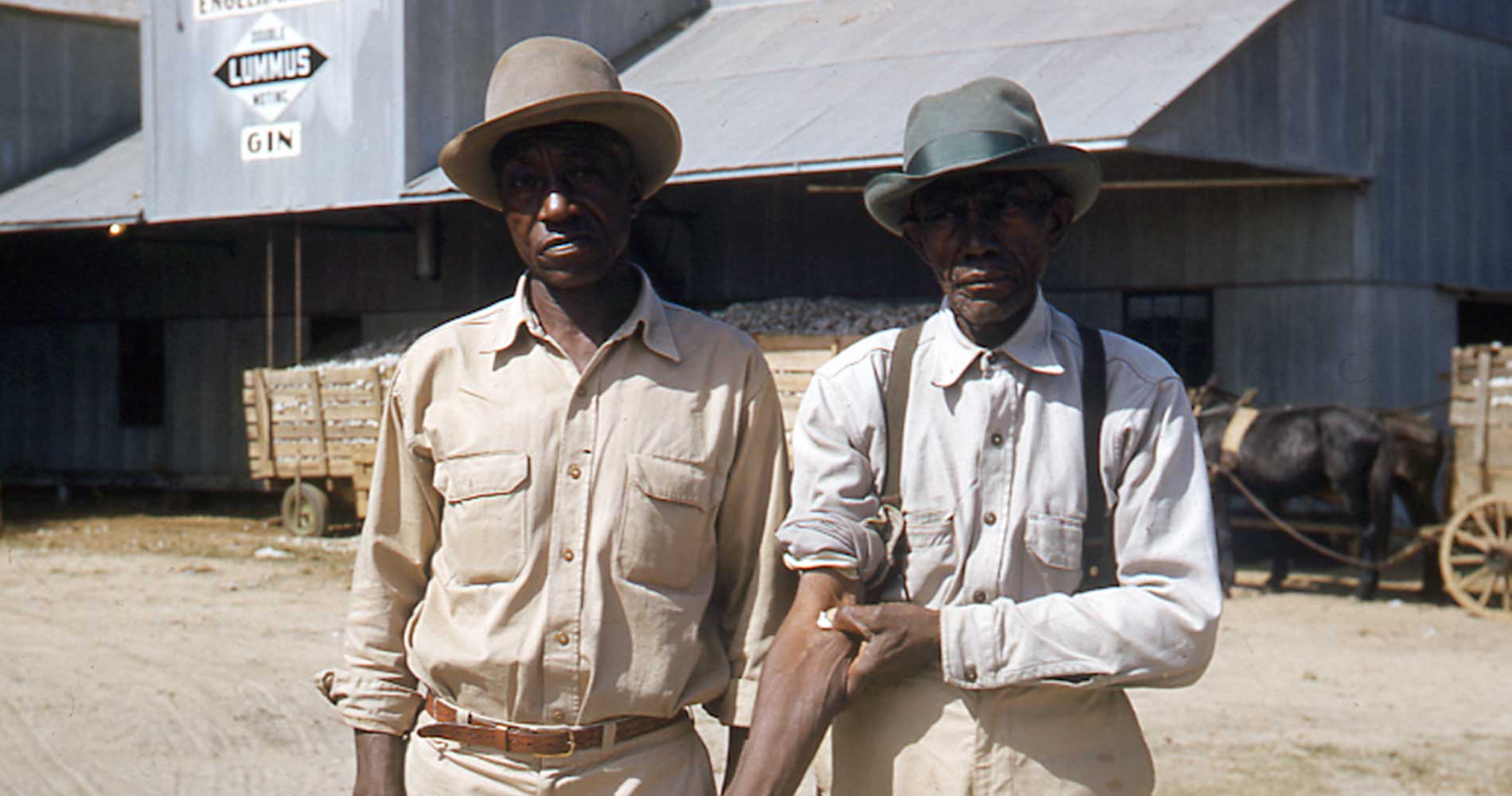 Two Black men receiving their injections on site in Tuskegee, Alabama (1932-1972)
Health Equity Research
We must additionally contextualize medical oppression and health inequity that Black and Latine communities face and frame Social Determinants of Health Equity within Black and Latine communities. The Los Angeles County Department of Public Health's Center for Health Equity Publication's data reports Rising Food Insecurity in Los Angeles County and how that creates barriers to accessing health care among adults with low household incomes. Additionally, the largest Social and Economic factors effecting health inequity at 40% include education, employment, income, family and support, and community safety.
Our professor Melissa Liu said, "Communities should have equal inclusion and collaboration in the identification, research and resolution of community issues." Melissa went over the benefits and critiques of Community Based Participatory Action Research, part of which i
s hearing and understanding the Community Voice. "Who is the community? Who represents the community? Who speaks for the community?" In better understanding the Community Voice, we moved into voluteering and participatory research.
Participartory Research and Volunteering
Our team began our concept development by volunteering with LA-based pop-ups Get Out The Shot LA (GOTS) and MyCovidMD. These pop-ups specialize in "heart-work" which is to deeply connect with the community and their issues to build trust with doctors and the vaccine. We went into the field, volunteering at Southgate, Compton, Riverside, and Downtown LA to discover what the community and volunteers really needed.

We created a "Draw Your Dream" exercise, where we visualized big sky ideas from Liz of GOTS and Dr. Nana Afoh-Manin's from MyCovid MD's dream for vaccine equity. We discovered the fun and festive approach to vaccine pop-ups to make communities feel welcomed and cared for in a system that hasn't prioritized them.


Van & Storage System
The interior of the van is designed to assist volunteers in a five-minute unpacking/packing time to ensure we can reach every neighborhood that needs us in the Greater Los Angeles Area.

(Designed by Lauren Johnston, Athena Aquino, Soojung Yoo, Weizi Song, Jeremy Zerger, prototypes by Lauren Johnston, Jeremy Zerger, and Weizi, 3D renders and interior by Soojung Yoo and Weizi Song)
Color-Coded System and Icons
The brand colors are not only festive and celebratory, but also work seamlessly as catergory labels for volunteers to easily get onboarded and stay organized. Red is for the "Vaccine Area", blue is for the "Registration Area", green is for the "Observation Area" and orange for the "Care Area". The icons provide clear labeling for supplies. The overall system allows for ease of set-up and break-down of the van as it moves from location to location.
(System Design and Graphic Design Support by Lauren Johnston, Lead Graphic Design and Branding by Athena Aquino)
Spatial Experience Design
The mobile vaccine pop-up is intended to be customizable and scalable depending on size and location of the event.

The Small Scale version can be deployed in places such as small parking lots, street parking in neighborhoods, in people's driveways, or in front of small shops.

The Medium Scale version can be set up at small outdoor events and places like churches, food and clothing drives, mid-sized parking lots, community parks, or schoolyards.

The Large Scale version can be an event in itself. It can occupy large parking lots, large parks and public community spaces, or outdoor venues. Guests can begin at the entrance sign, which uses a color-coded system to easily guide them step by step through each station, starting with Registration.



(3D renders by Soojung Yoo, Weizi Song, Jeremy Zerger)
Small Scale

Medium Scale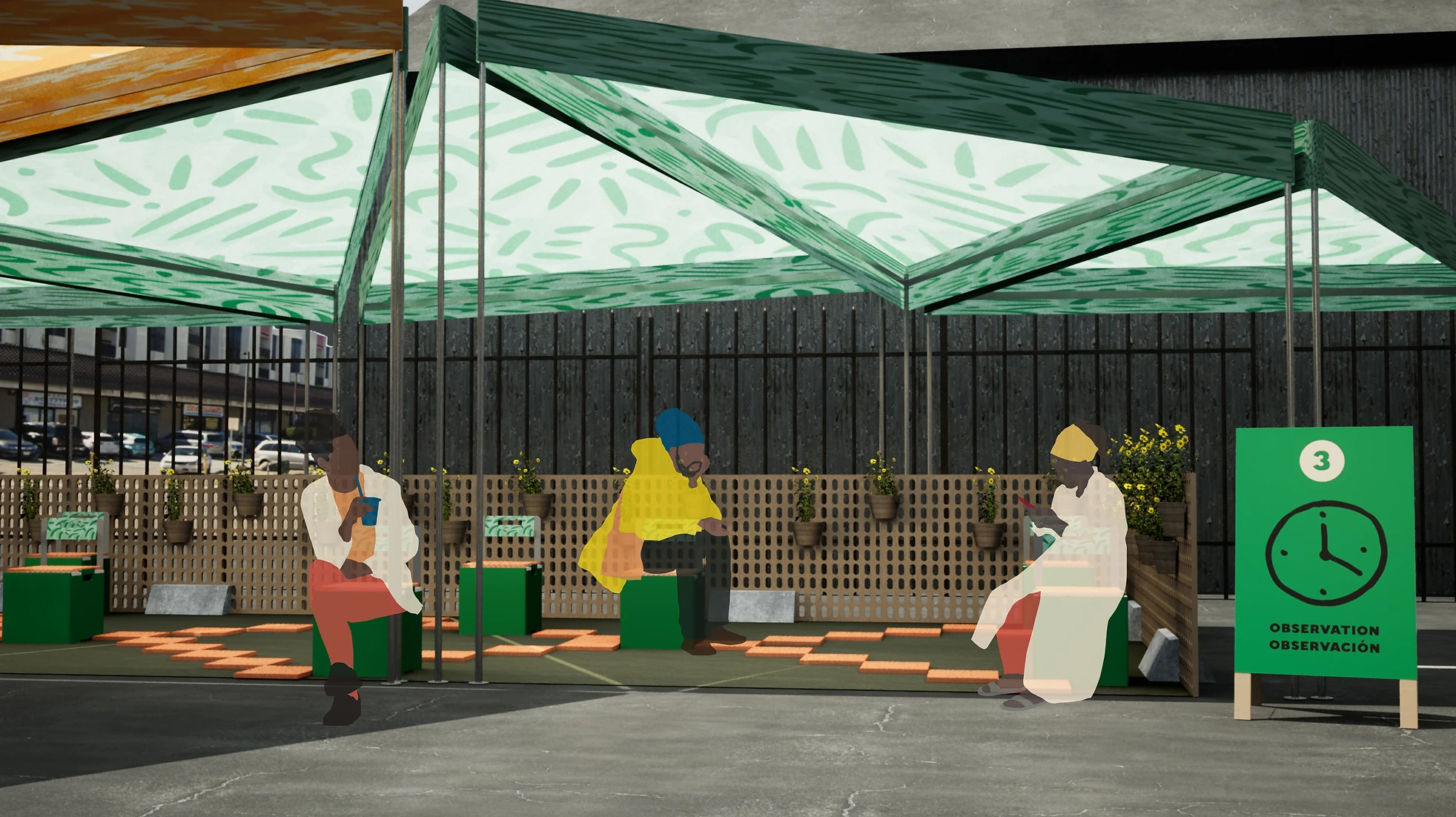 Large Scale
CARE Kit

The CARE Kit is a free custom kit filled with post-vaccination care items. It is given to all who receive the vaccine at our mobile pop-up events. The kit includes a thermometer, a face mask, sanitizer, a cold compress, medicine, band aids and a CARE Kit flyer, available in English and Spanish.

(Components, icons and insert layout by Lauren Johnston, final graphics and 3D render by Athena Aquino)
Community Engagement and Give-Aways
We created flyers as a method of local community outreach, as well as branded notepads and totes to give away at pop-ups.

(Graphic design and mock-ups by Athena Aquino)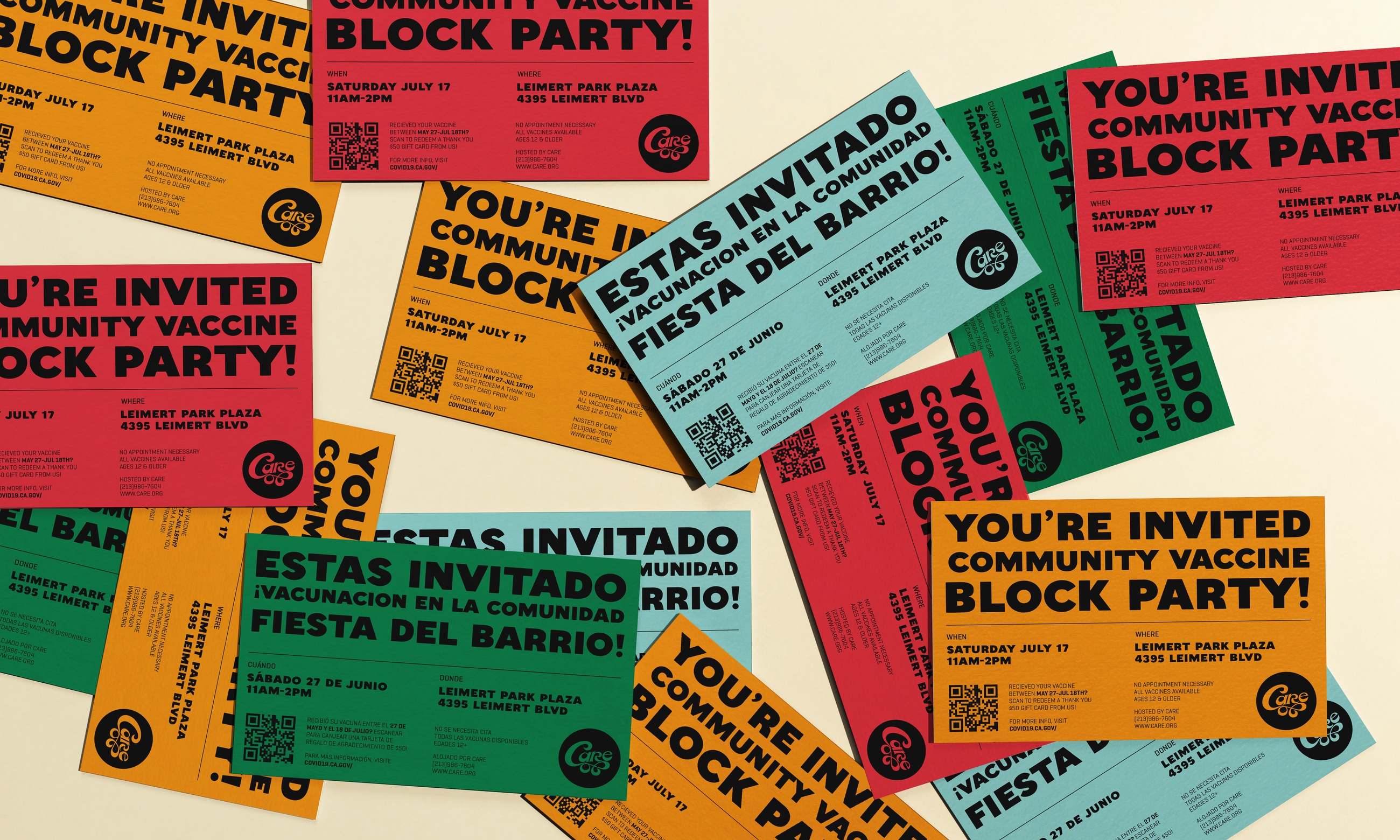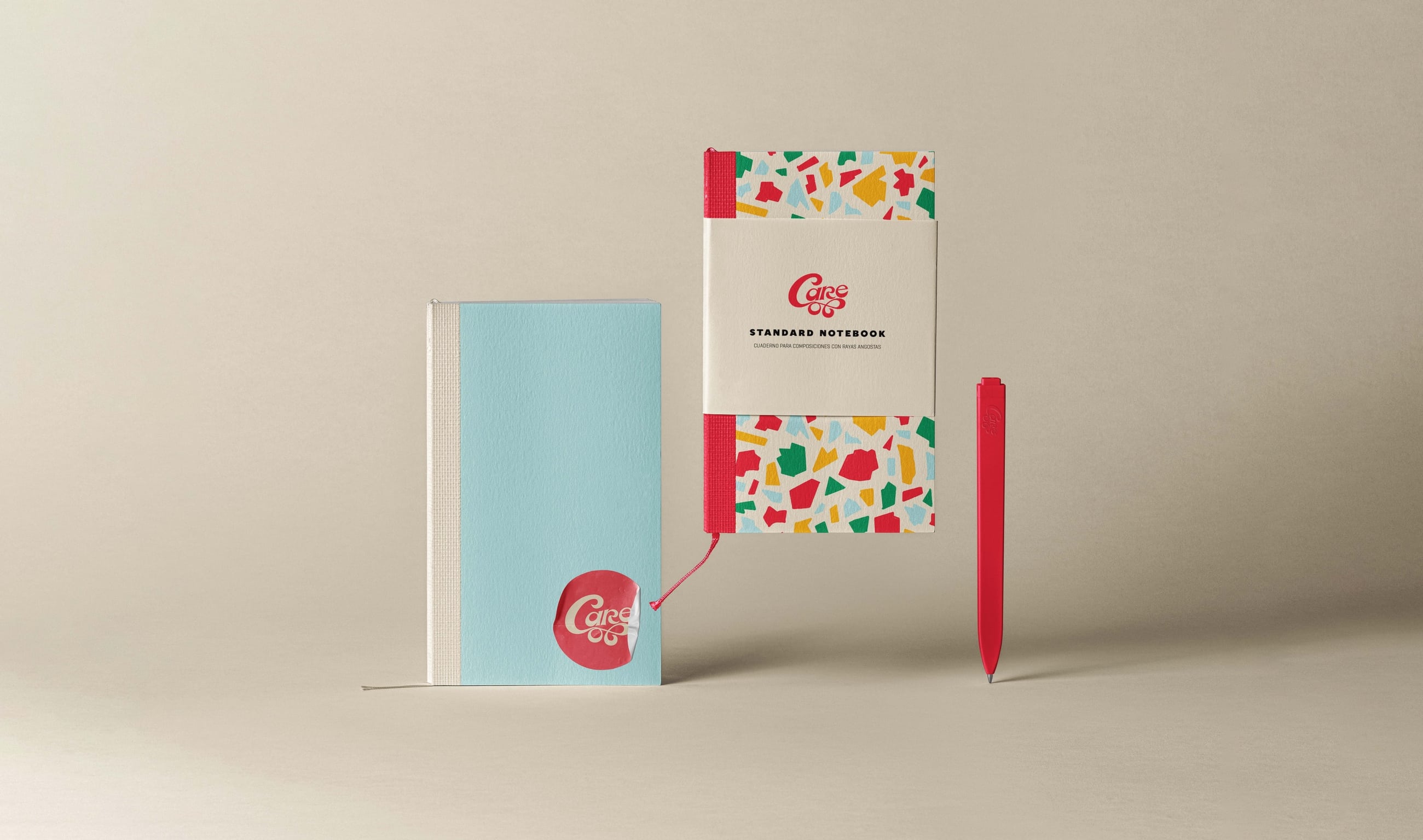 Final Pop-Up Event Walkthrough
User Personas
In researching who to design for, we interviewed volunteers at pop-ups directly, and observed guests getting their vaccines. Alex is our volunteer doctor, who needs a better way to move between pop-ups each day and onboard new volunteers. Maria is a full time mom with a part-time job, trying to find time between her responsibilites with work and kids to get her vaccine. Finally, Chris is a restaurant worker who commutes on the metro daily, and it would be convenient for him to receive his vaccine on his way to or from work.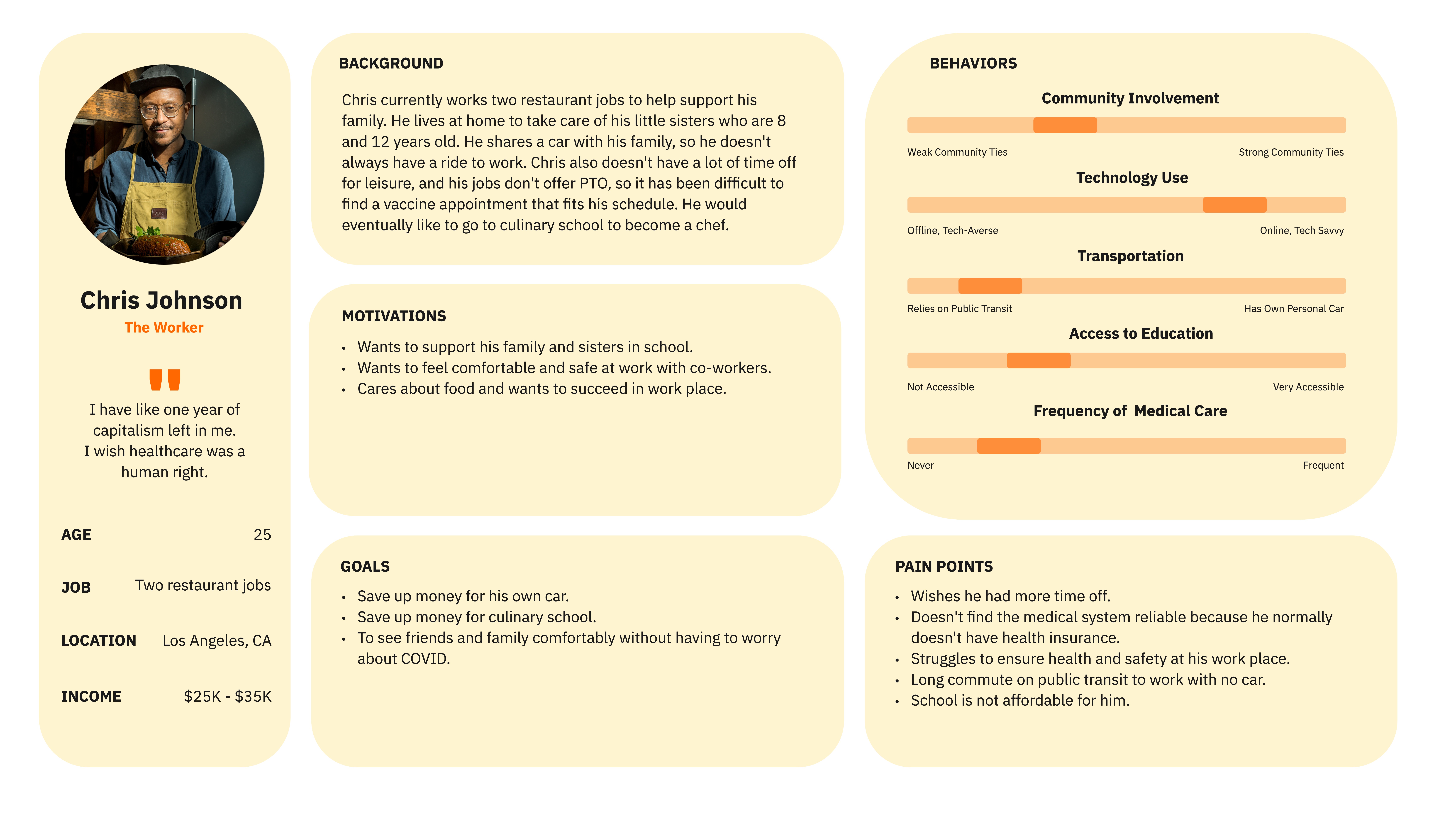 User Journeys
By following each of our users on their daily journey, we are able to observe thoughts, feelings, habits, places frequented and pains points that reveal opportunities to design for.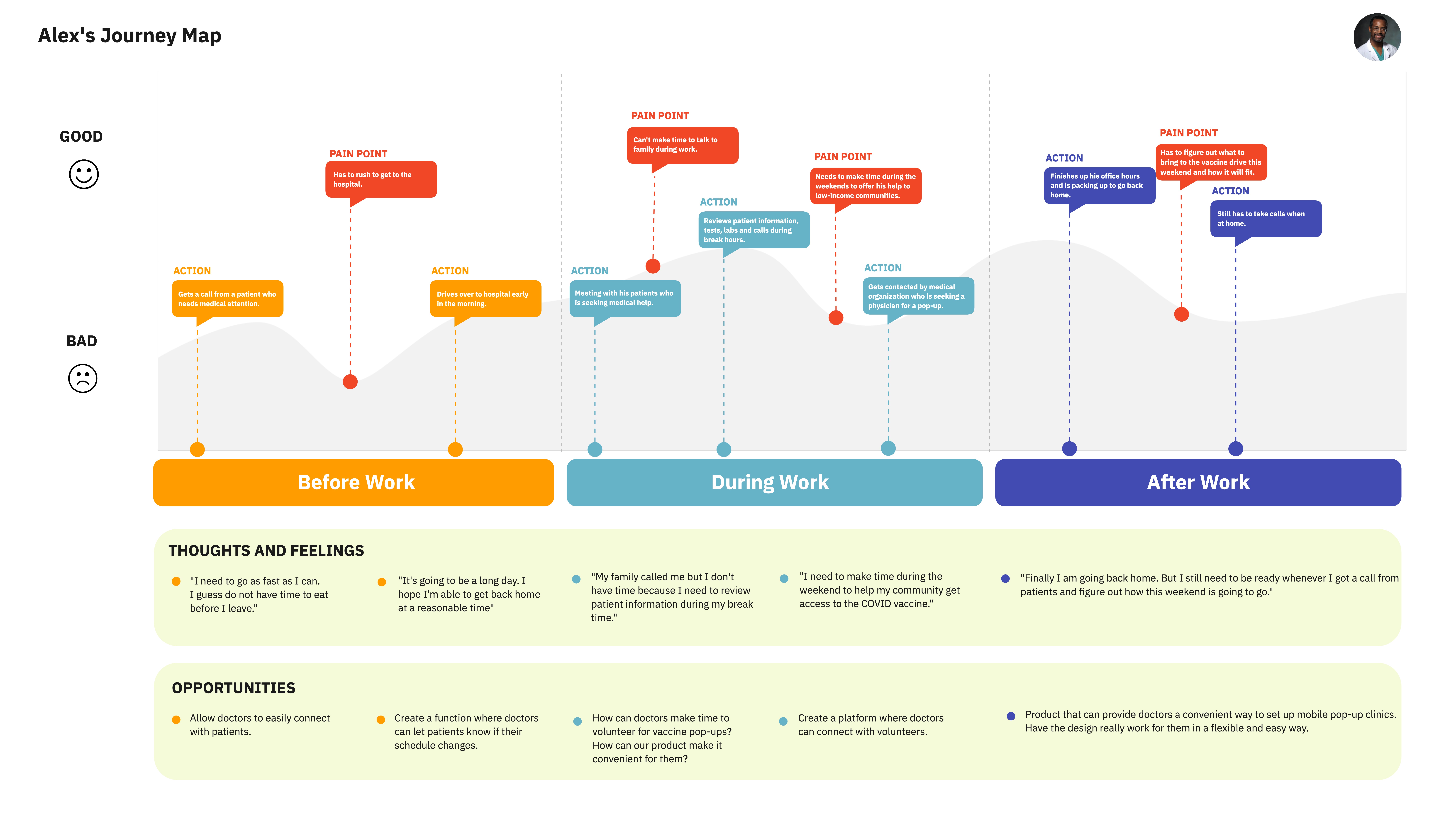 Care Kit and Storage Prototyping
In order to figure out what could actually fit in the CARE Kits, I built a cardboard prototype and tried to fit all the give aways in such a band aids, hand sanitizer, masks and tylenol. This helped up iterate on the final product dimensions, and fit everything in a more organized and presentable way. I also worked on creating our first cardboard box with wheels prototype to be tested at a MyCovidMD event. We learned the cart was too tall, and difficult to push. The wheels kept getting stuck on bumps because they were too small, and we needed some kind of handles and folding system. This helped Jeremy and Weizi iterate on a better modular cart design out of wood and metal and plastic bins.
After volunteering with knowledge partners at vaccine pop-up events, we've learned the real world implications of developing a medical van for low-income and underserved communities in LA, including building empathy, our positionalities, and the cost and time it takes to develop a van system.

By learning from Health Equity experts and having many insightful conversations over the past several weeks, we are open to evolving our brand to best fit our partners needs and determine design solutions that are empathetic, community-built, and resourceful.
Budget and Logistics:
Shared Harvest Fund was awarded a $250,000 grant from the city of Los Angeles with assistance from our student design team. They will use the secured funds to follow up with our research and list of vendors to begin fabrication.
We hand-off logistics to Shared Harvest Fund to prepare volunteers for onboarding with the new design system.
Van System + Storage Cart:
Hand-off detailed construction pack for van interior and cart to Shared Harvest Fund
Connect Shared Harvest Fund with fabricators for the van
Branding and Graphics:
Hand-off final van wrap to Shared Harvest Fund
Hand-off all editable AI files and PDF files