UI / UX Design
User Research & Strategy
Interaction Design
Illustration
Social Innovation for Health Equity

ABOUT
Located in South Los Angeles, Kindred Space LA is a fully operational birthing center and clinical training site for students serving communities of color. Women of color were more likely to say they were treated unfairly during birth and more than half said they'd be interested in midwifery care for future pregnancies. America's black babies are paying for society's ills.

What can we do as designers to fix it? In this co-hosted transdisciplinary studio, we collaboratively designed comprehensive multi-modal awareness campaigns with the goal of facilitating access to equitable child birthing experiences, increasing awareness around black midwifery and improving health outcomes while addressing the Black Maternal health crisis in America.
Lauren Johnston
Researcher, UI/UX, Interaction Designer

Elizabeth Costa
Researcher, UI/UX, Interaction Designer
‍
Melissa Fernanadez
Illustration, Graphic Design
Problem Statement:
Black queer birthing people in the U.S. face greater social determinants in accessing health services such as racial, gender and queer discrimination, and lack the resources, support and inclusive care they need.
Solution Statement:

Create an extension of Kindred Space L.A. that supports Black queer birthing clients through gender affirming care, educational resources, and community buidling while promoting Black joy.
Positioning Statement
We recognize and acknowledge the vast intersectional identities, narratives and experiences that occur during prenatal care, pregnancy, and postpartum care. Our research, conversations and designs hold knowledge of the social determinants of health equity and how our health is impacted by our environment, as such highlighting the racial disparities in Black birthing and infant health. We hold dedicated space and commit to using gender-inclusive language and safe joyous practices. As a result, our app aims to promote the additive use of gender-inclusive language and health equity framed by Kindred Space LA in order to support Black, Gender, Sex and Reproductive liberation.

Our team, Lauren, Melissa, and Liz

Onboarding
The Onboarding gives an option to create an account to input data and access all the app features.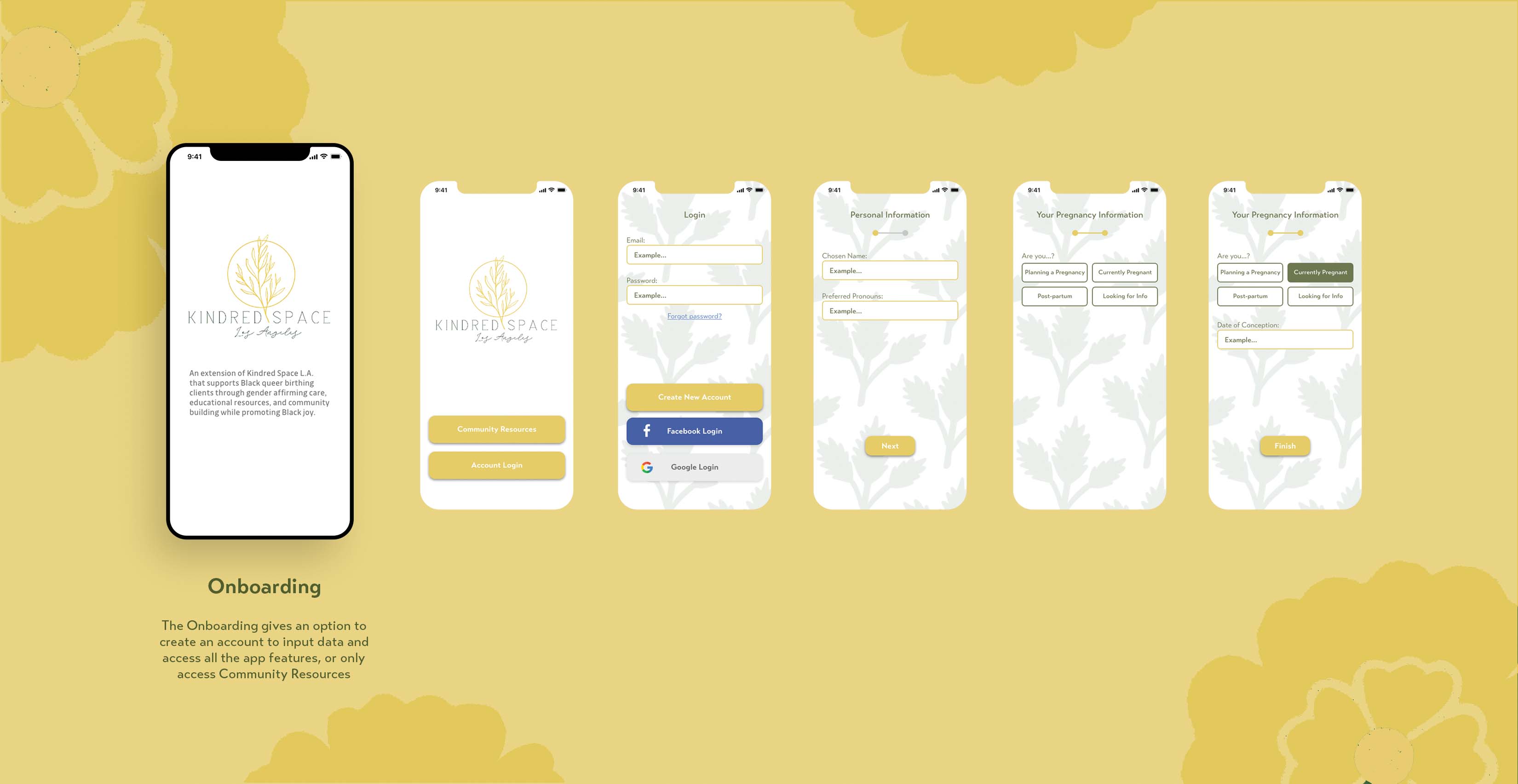 Log Tracking
The client log tracks things such as mood, weight, contractions and New Symptoms, featuring an FAQs page and direct contact information to Kindred Space LA.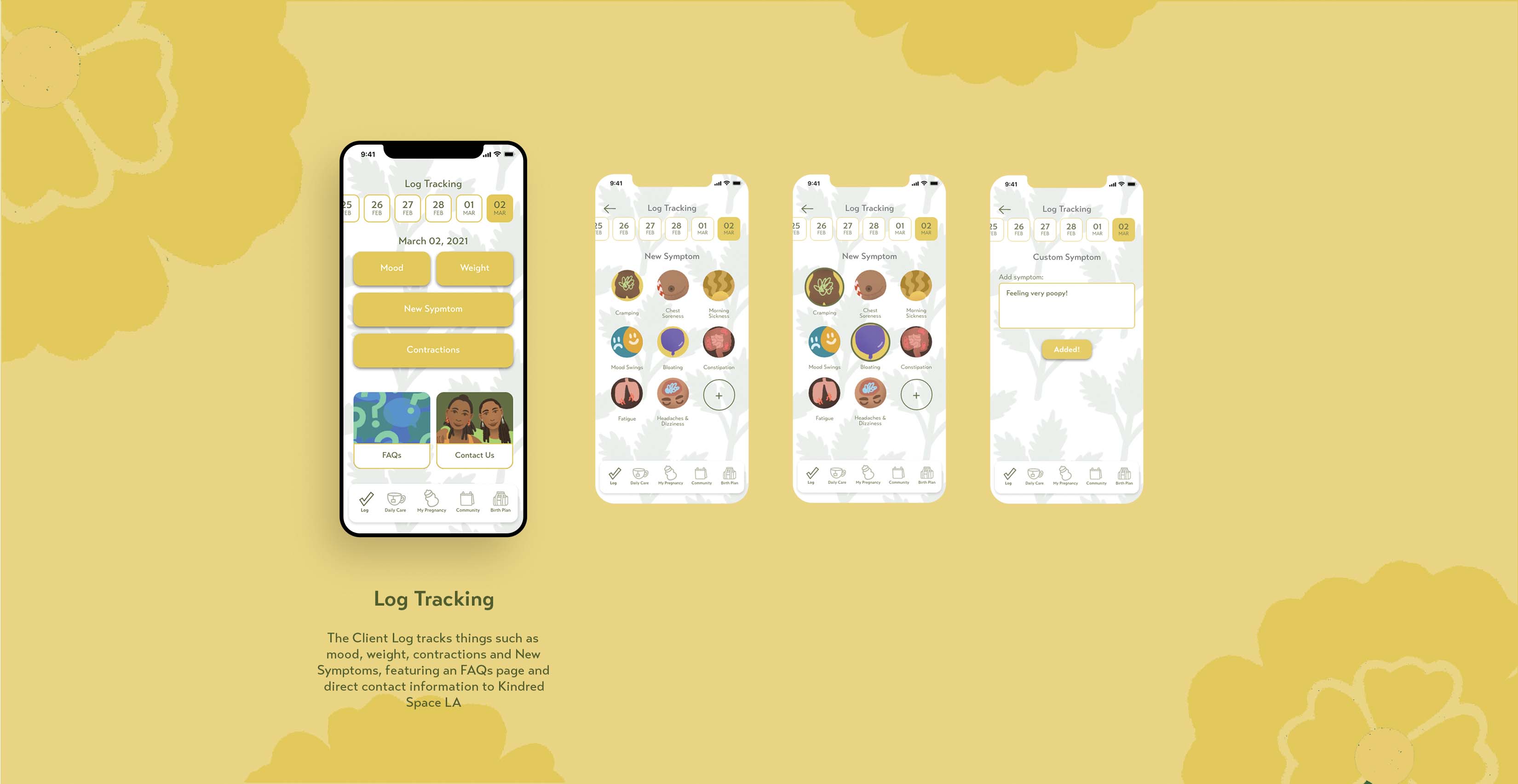 Daily Care
Daily Care is a check-list that gets commpleted each day to remind clients to take their vitamins, drink water, exercise and get plenty of sleep.
My Pregnancy
Track your birth week by week with visuals, featuring a Baby Development overview section for all three trimesters.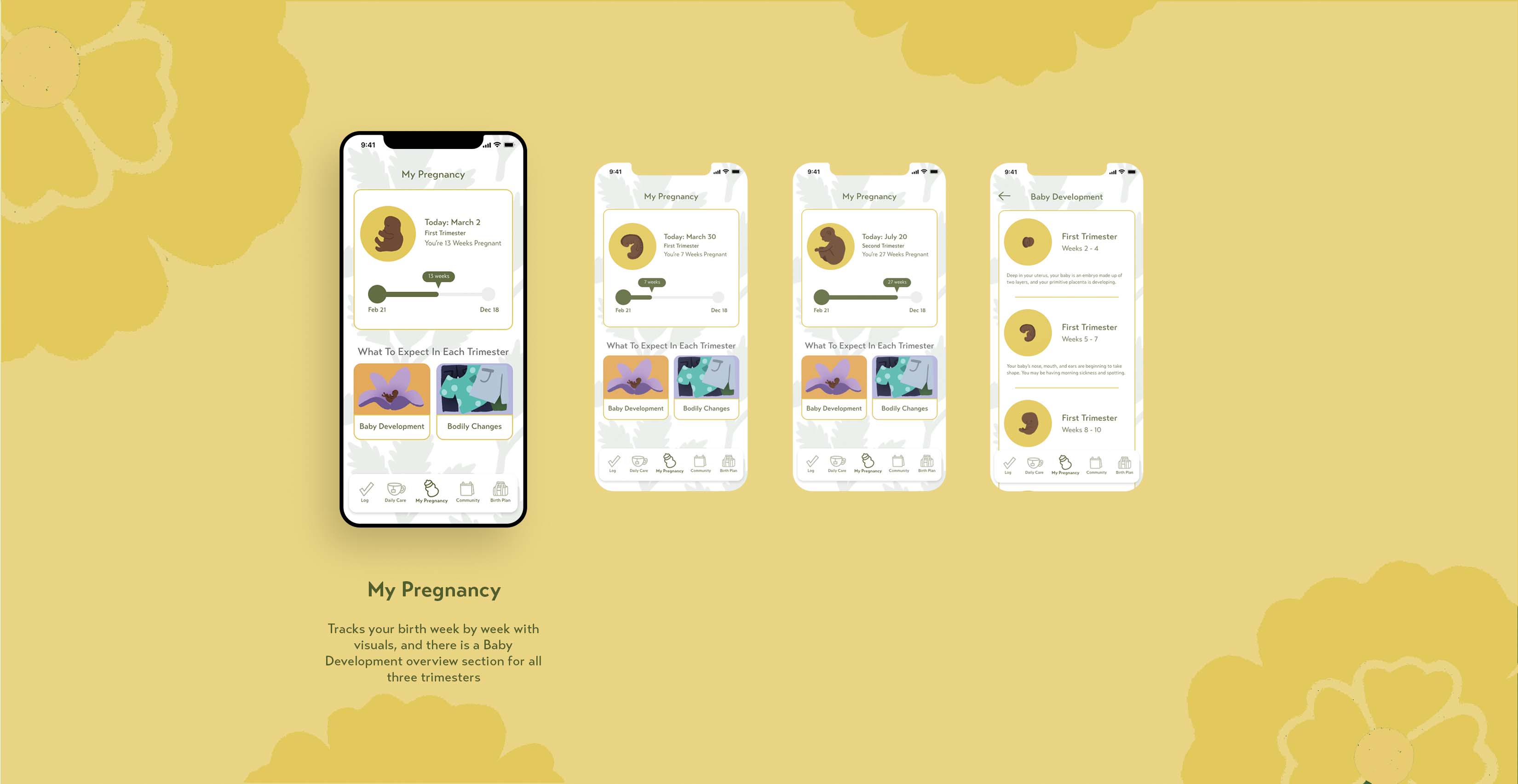 Community
The community page offers a calendar of Upcoming Events specific to Kindred Space LA featuring a Groups page with different birthing topics and a Resources page that offers external help for things like food security, clothing and post-partum health checkups.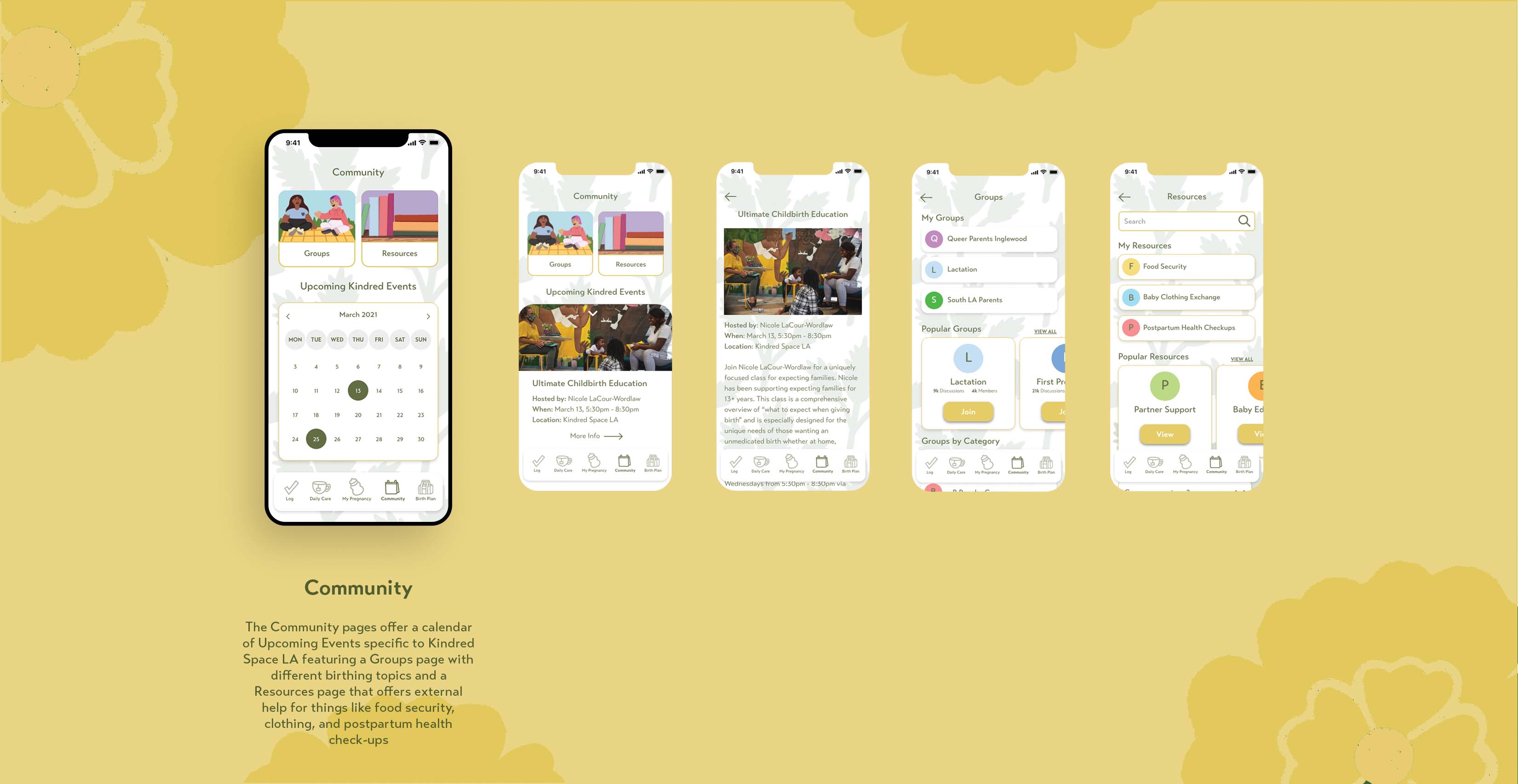 Birth Plan
The Birth Plan allows you to create a new Birth Plan and add veryn specific information about Pregnancy Info, Labor Plan and Postpartum Planning, specifically for a hospital birth.
Research and Interviews
In our research we found that
Black women are three to four times more likely to experience a pregnancy-related death than white women
. Black women are also more likely to experience preventable maternal death compared with white women. Black women's heightened risk of pregnancy- related death spans income and education levels. Additionally, Black-serving hospitals have higher rates of maternal complications than other hospitals. They also perform worse on 12 of 15 birth outcomes, including elective deliveries, non-elective cesarean births and maternal mortality.
The "Pain Gap" and Medical Bias:
A 2016 study (sourced in the New York Times article) found that nearly half of first and second year medical students believed that Black people have thicker skin than white people, and perceived Black people as experiencing less pain than white people.
A 2019 study published in the American Journal of Emergency Medicine found that
Black patients were 40% less likely to receive medication for acute pain compared to white patients, and 34% were less likely to be prescribed opioids
.
Black women are significantly underrepresented in key biomedical research
datasets, including genomic data repositories and related analyses:
Nearly 80 percent of all individuals included in genomic studies are of European descent
.
In regards to
gender queer, trans and non-binary pregnancies, the software, programs, and any tool used to collect information is not up to standards to accommodate genders beyond the binary.
This would allow folks to be addressed by their preferred or chosen name and pronouns. This level of respect sets the stage for respectful and trusting conversations necessary when it comes to someone's health. It also validates who they are and the importance and visibility of their expansive identites.
"Books, hospital clinics, doctor's offices, and all of the internet wormholes I used to try to learn about best conception, labor, and delivery practices were written for and about cisgender, straight couples—specifically for women and mothers and their fathers-to-be."
(Source: Trans and Nonbinary People Can Be Pregnant Too - article by Amber Leventry, Oct. 21, 2021, Parents)
In addition to our white paper research, we also interviewed Kimberly Durdin: midwife and Co-Founder of KindreadSpace LA, as well as Deara Marshall: practicing doula and birth worker pursuing her RN and work at Johns Hopkins Hospital in Baltimore, MD.
Proto Persona
In researching who to design for, this proto persona is based on white paper research and interviews about clients with birth worker Deara Marshall, and the Co-Founder of Kindred Space LA, and midwife Kimberly Durdin.

Information Architecture
The information architecture is designed for deep exploration. All the main features, such as the Birth Plan and My Pregnancy sit on home page. The Daily Log and My Pregnancy lead to the Community page where FAQs can be answered and new related groups can be found. As you drill down in the Birth Plan, your plan becomes more and more specific until to complete the form and can export it as a printable PDF file.

How social determinants impact health equity

How Racial Impacts/Racial Biases effect health outcomes

How representation matters

Using inclusive language for all genders and sexualities

Data research and reflection of Black maternity and infant health
CONCLUSION
Through having racial and health equity lessons about the social determinants that Black queer birthing people face, and insightful conversations over the past several weeks with knowledge partners, we learned to evolve our app to best fit the needs of Kindred Space LA and their client's. We learned how to implement design solutions that are empathetic, community-based, and resourceful.

In collaboration with Kindred Space LA, we've learned the real world implications of developing an app for Black, queer birthing in South LA. With careful research and considering our positionalities as designers, we developed an app that provides gender affirming care, educational resources, and community building.